£10,000 awarded to Hereford Citizen's Advice Bureau
Hereford City Council agreed to release this year's grant of £10,000 to Hereford Citizen's Advice Bureau, following a report presented by Sonya Gregory.
Hereford Citizen's Advice Bureau work to give local people advice on issues which are causing them problems in life, whatever that problem may be. From unemployment and benefits, to relationship troubles and child support, Hereford CAB tackle issues in every corner of our community.
This year has presented specific changes to the way in which they operate. The CAB has seen a 146% increase in enquiries, and they also highlighted the fact that employment issues have risen 181% since the outbreak, with benefits and relationship problems also steeply on the rise.
Since March 2020, having already investigated working from home, the CAB were quick to adapt to a radically new situation, and have worked hard to remain visible and accessible during the lockdowns. Despite this, they have achieved their goal of recruiting eleven extra volunteers, which will only help in continuing their supportive efforts to the City.
The Bureau expects a surge in debt and eviction queries as the controls on court actions are gradually lifted; to this end, they have secured external funding from national sources and have added a debt specialist to their growing team.
Though Covid-19 is cited as a primary cause for many of the challenges currently being faced by local people, mental health issues are also at the forefront of what the CAB is concerned with, and they always make sure to search for underlying issues, which has uncovered a significant rise in poor mental health.
After making statements of personal appreciation for the vital work of the CAB, City Councillors unanimously agreed that the grant of £10,000 be released in order to aid the Bureau's extraordinary service.
It is not surprising that in the current pandemic, residents of Hereford need advice more than ever. The work of the CAB has been – and continues to be – a critical support function.
For more information about the Citizen's Advice Bureau, visit: www.herefordshirecab.org.uk
£15,000 awarded to Close House
Hereford City Council agreed to release this year's grant of £15,000 to Close House, following a report presented by Ben Lea.
Close House is a Youth Centre located in Hereford City Centre, and Hereford City Council have long been proud to support their brilliant work with young people. The Close House Project aims to be a safe, supportive and inspiring place for Hereford's youth, breaking the cycle of negative experience and behaviour that some young people face, helping them find hope and aspiration and enabling them to control the direction their own lives take.
The ongoing grant from the City Council covers the cost of running their drop-in service, a music project and the Epics community outreach projects. Close House also help run the Hereford City Youth Council, which gives young people a voice on the Parish Council and helps introduce them to the inner workings of Council and office environments.
Recently, Close House have had to adapt to the unprecedented Covid-19 situation, and by June 2020 all services which were able to operate online had been set up. Many young people have become stressed at home or are suffering from online fatigue, so Close House arranged safe and secure pre-booked appointments for those who were really in need.
The pandemic has had negative effects on those who were already struggling with dis-engagement from school, and who might otherwise have been the subject of Children's Services interventions around drug and alcohol misuse or anti- social behaviour. The project helps alleviate many of these issues, supporting young people through troubled times.
City Councillors unanimously agreed that the ongoing grant of £15,000 be released to help maintain Close House's continuing work.
A second application from Close House, which involves the Idle Hands project to counter county lines in the area, was recommended to go before full Council before a decision was made.
For more information about Close House, visit: www.closehouse.org
£3,000 awarded to WorkHere
Hereford City Council approved a grant of £3,000 for WorkHere, which will help support the co-working space in Hereford High Town.
WorkHere operates Hereford's first and only coworking space, providing an environment for new start-ups and local entrepreneurs who need space in which to work. They offer a range of safe and flexible options from open-plan workspaces, quiet spaces for focused work, office space to hire, meeting rooms and a one-to-one consultation space.
Users are able to break away from their own home and operate in a place with helpful disciples; evidence has shown that showed this kind of dynamic support can be crucial in turning an idea into a viable business. Getting out of the house and the social interactions of work have been shown to have beneficial effects on mental health, as well as influencing the success of new business start-ups.
This is especially notable for people from disadvantaged backgrounds, who may lack access to spacious work environments or useful facilities. No charge is made to users, which is an important factor to enable proper business development.
A similar start-up facility in Worcester has seen tremendous success, and so City Councillors were keen to see something similar established in Hereford to benefit its residents. WorkHere will pool ideas and resources with other groups in the City, to facilitate potential future businesses to grow.
In a time when many are unable to proceed with their business ideas, it is vital to encourage new ventures to begin.
City Councillors unanimously agreed that a grant of £3,000 be awarded to WorkHere to establish and maintain the new workspace.
For more information about WorkHere, visit: www.workhereford.co.uk
£3,000 awarded to Borderlines Film Festival
Hereford City Council approved a grant of £3,000 for Borderlines Film Festival, which will go towards their upcoming festival planned for 2021.
Borderlines Film Festival is the UK's largest rural film festival, and their annual events are open to all in Hereford City, Herefordshire, Shropshire and some parts of Worcestershire. Over the last 18 years, Borderlines have screened 1,400 different titles in 3,275 screens and achieved attendances of over 253,000, with the majority of these attendances taking place in Hereford City.
Offering high quality, contemporary cinema experiences for all to enjoy in an area that is often underserved, their programme focuses on World Cinema, Best of British and documentary features, along with a showcase for local archive materials and new productions from local companies.
Hereford City Council have supported Borderlines fantastic festival in the past, and though this year has been particularly devastating to the arts sector, it is brilliant to see Borderlines pushing forward with safe plans for the future.
Taking place from Friday 26th February to Sunday 14th March, the 2021 festival hopes to take place in physical venues, with a smaller online selection to accommodate audience members who may not be able to return to cinemas during the pandemic. Due to social distancing measures, they anticipate a reduced audience in Hereford City, but will be doing everything they can to bring the spirit of the festival to local screens.
Adequate safety and cleaning protocols have been arranged, with the Courtyard being chosen as the venue for screenings.
City Councillors were pleased to see Borderlines adapting to new circumstances, and it was unanimously agreed to award £3,000 to help the festival proceed.
For more information about Borderlines Film Festival, visit: www.borderlinesfilmfestival.co.uk
£900 Awarded to Herefordshire Lore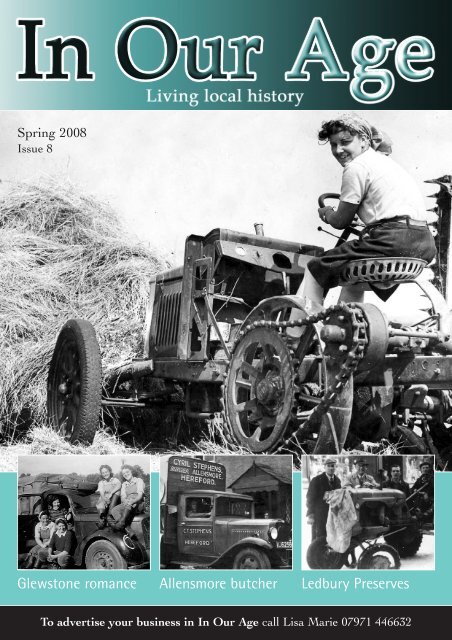 Hereford City Council have approved a Grant of £900 for Herefordshire Lore, which will go directly to helping them distribute their magazine 'In Our Age'.
Herefordshire Lore have been collecting, publishing, and archiving local people's memories, recollections, and images of Hereford since 1989. They work to remember, celebrate, and record the area's past and living history. The organisation is run and organised by a group of volunteers, who design, plan and gain funding for projects.
'In Our Age' is one of several ongoing publications the organisation is producing. The magazine showcases stories from Hereford's past, including the extraordinary lives local people have lived, past Hereford news and events, and chronicles much of Hereford's wartime history.
Herefordshire Lore deliver a copy of 'In Our Age' to subscribers, which helps them continue producing the magazine. However, they also have a policy of distributing the magazine to those who cannot afford it, and would usually give these through time-honoured distribution channels, such as libraries, museums, doctor and dental surgeries, community halls, hospitals, residential homes, cafes, pubs and more.
Since the situation with COVID-19 has rendered many of these venues inaccessible, Herefordshire Lore has received new requests for copies from people all over the City. In order to be able to commit to future delivery of their upcoming issues, £900 was needed to cover the costs of postage and distribution of the 'In Our Age' magazine.
City Councillors recognised the contribution the organisation makes towards the City, and it was unanimously agreed that Herefordshire Lore be granted the £900 to aid them in delivering 'In Our Age' to residents.
Not only is this a lifeline for the preservation of local history which might otherwise be lost, Herefordshire Lore have also made these memories so accessible that anyone can learn more about the City and its residents in ages past.
For more information on Herefordshire Lore, visit: www.herefordshirelore.org.uk